EasyCatalog includes additional functionality to support the management of larger catalogs using book files within InDesign.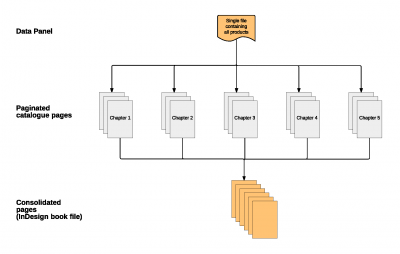 Using a book file gives your significant advantages, including:
Better application performance
Ability for different team members to work on different parts of the catalog simultaneously
Consistency of styles across the document
Maintain continuous page numbering
Refresh all data in a single update
Export final print-ready PDF as a single document
Product data
Product data used to create book files is held within a single EasyCatalog panel. Loading separate data files for each chapter is not recommended.
Paginated catalog pages
Each chapter or section of the catalog is typically saved as a separate InDesign file.
Learn more
Learn more about book files with our Managing book files within Adobe InDesign guide.
Learn about specific EasyCatalog functionality for book files with our EasyCatalog book menu reference.