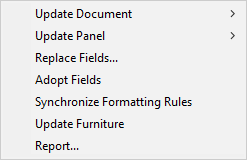 Update Document
The Update Document option is used to update fields within your catalog. Different levels of update can be enacted depending on your circumstances.
Using Update Document will not re-apply any conditional statements or styles applied during the initial pagination.
All
Updates all EasyCatalog field content within the document.
With Panel Selection
Updates only the data currently highlighted within the EasyCatalog panel within the document.
Update Panel
With Page Numbers
Updates the page number where each product record appears in the document to a selected field within the Panel.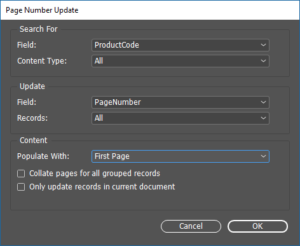 EasyCatalog will search for the field name shown within Search For > Field. Typically you choose a product code or product heading field that is included within the paginated catalog pages for every product.
The field selected within Update > Field will then be populated with the appropriate page number(s) for the correct product records. This field can then be utilised within an EasyCatalog library to provide a simple reference to the page number(s) containing a particular product.
Replace Fields…
The Replace Fields option is used to allow the global finding and replacement of an EasyCatalog field within the current document.
Adopt Fields
The Adopt Fields option allows the EasyCatalog fields placed on a document to be linked to a new data source. The new data source must contain fields with the same names as the original document.
Synchronize Formatting Rules
Updates Formatting Rules if these are in use.
Catalog Automation prefers library based pagination over formatting rules. As a result, Formatting Rules are not currently discussed within this Knowledge Base.
Update Furniture
The Update Furniture option populates EasyCatalog controlled content applied to the master page. Typically this content includes coloured navigation tabs, breadcrumbs, page numbers and other navigation devices. This content is known as page furniture and is dependent on the product content applied to each page.
Report…
Creates an HTML file detailing the source, key, field name and content for all EasyCatalog derived data contained within the current InDesign document and opens it in a web browser.