The Configuration option is used to manage the appearance of the panel.

Numerous configurations may be created and selected to allow for different views of the same data to be used.
For example, you may create a separate configuration for the body of a catalog (e.g. Products by Category) as well as one where all products are listed in alphabetical/numerical order (e.g. Product by ProductCode).
Save As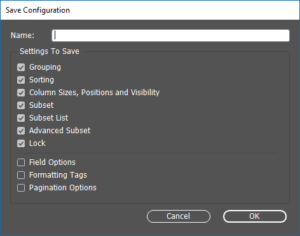 Saving a configuration allows you to selectively save:
| Option | Details |
| --- | --- |
| Grouping | The grouping applied to the data. |
| Sorting | Column sorting (ascending/descending arrows). |
| Column sizes, positions and visibility | The position, visibility and width of panel columns. |
| Subset | Any filter or subset applied to the data. |
| Subset list | The list of filters or subsets as shown in the Saved Subsets menu. |
| Advanced subset | The options applied to the data as shown in the Advanced Subset options. |
| Lock | Whether the panel is locked or unlocked. |
| Field options | Options applied to any fields using Field Options. |
| Formatting tags | The formatting of any fields applied using Field Options > Format. |
| Pagination options | The latest pagination options used from this panel. |
Once a Configuration is saved is will be listed below the Export option. In this example a configuration Products by Category has already been saved.
Delete
Choosing Delete allows you to remove a previously saved configuration.
Import
Choosing Import allows you to import a previously exported configuration.
Export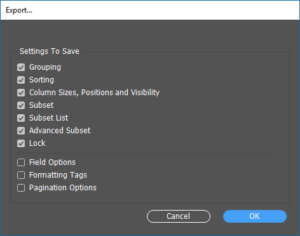 Choosing Export allows you to export the current configuration. You can selectively save the options as shown under Save As above.
If you click OK you will be prompted to save the resulting configuration XML file.