The Paginate option is used to create automated content using data from an EasyCatalog Panel and an EasyCatalog library.
This menu option requires the EasyCatalog Pagination Module.
Selecting data
The Paginate functionality is only available when data has been selected within an EasyCatalog Panel.
[image]
The selected data will be used to create automated content in the order in which the data appears in the Panel. If any records have been sorted or filtered then the content will reflect this.
Selecting pagination type
Choosing Paginate brings up the Pagination dialogue.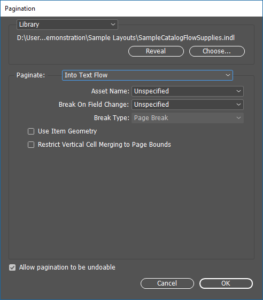 Different options are presented depending on the selected layout / pagination method. (The Into Text Flow option will be shown the first time you select this menu option. For subsequent uses the last values will be remembered.)
Read more about which layout option in our Choosing the optimal pagination option for your catalog guide.
You make like to refer to our separate guides:
Pagination using:
Into Text Flow
At Page Guide Positions
At Positions Specified In The Data
Into Master Pages